COMMITTED TO DENTAL EXCELLENCE
Welcome to Fresh Family Dental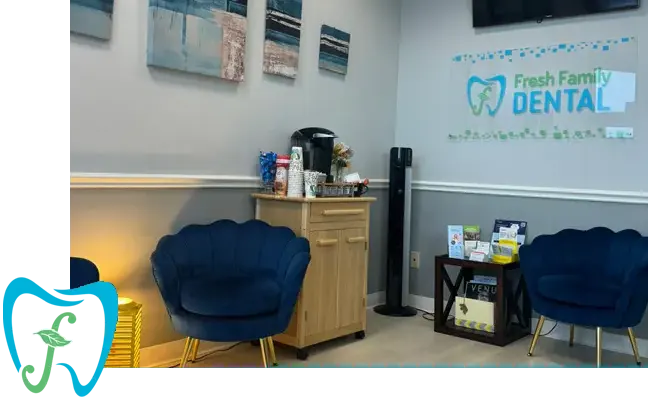 Dentist Near Me in Grand Prairie, TX
Looking for a reliable dentist near you in Grand Prairie, TX? Look no further! Our esteemed dental practice is here to alleviate any anxiety you may have about dental visits. With a strong emphasis on anxiety management techniques our compassionate team strives to create a comfortable and soothing atmosphere throughout your dental experience. Under the guidance of Dr. Ronak Patel, our dedicated team is wholeheartedly committed to delivering exceptional dental care in a friendly and inviting setting.
At our practice, we understand that finding the right dental professional is crucial for your oral health. That's why we take great pride in being your trusted dentist in Grand Prairie. Whether you need a routine check-up, a thorough cleaning, or more extensive dental treatments, we offer a comprehensive range of services to meet your unique needs. Rest assured that our skilled team provides personalized care and attention, ensuring your utmost comfort at every step.
For a dentist near you in Grand Prairie that combines expertise with a warm and welcoming environment, visit our practice today. Let us take care of your dental health and give you a confident smile you can be proud of.
Exceptional Dental Care Services from a Reliable Dentist Near You in Grand Prairie:
We offer a comprehensive range of dental services to address all your oral health needs, from dental bridges for replacing missing teeth to dental crowns for restoring damaged teeth. Our experienced professionals specialize in cosmetic dentistry procedures, including teeth whitening, tooth-colored fillings, and dental veneers; helping you achieve the smile of your dreams.
At My Fresh Family Dental, maintaining excellent oral health is our top priority. Our preventive treatments and examinations are designed to keep your smile healthy and vibrant. We believe that prevention is key, which is why we emphasize regular examinations, cleanings, and preventive measures such as fluoride treatments and dental sealants.
In the event of a dental emergency rest assured that we are here to help. Our emergency dentistry services provide immediate pain relief and expert care when you need it most. Whether you're experiencing a toothache, dental trauma, or any other urgent dental issue, our team works quickly to alleviate your pain and restore your oral health.
Are you considering orthodontic treatment? Our Invisalign aligners offer a discreet and comfortable alternative to traditional braces, helping you achieve a beautifully straight smile without metal brackets and wires.
For patients with missing teeth, we provide implant dentures and all-on-4 dental implants. Our team will assess your unique situation and develop a personalized treatment plan to restore your smile and improve your oral function. From the surgical placement of dental implants to the fitting of implant-supported dentures; we guide you through the process to ensure optimal results.
Our services also include deep cleanings, root canals, and tooth extractions, all performed with precision and care. We utilize advanced techniques; state-of-the-art technology to deliver the highest standard of dental care in a comfortable and safe environment.
Looking for the Best Dentist Near Me in Grand Prairie?
We invite you to experience exceptional dental care provided by Dr. Ronak Patel; our friendly team at My Fresh Family Dental. Your oral health is our priority, and we strive to exceed your expectations. Contact us today, at (972) 546-3888 to schedule an appointment; Discover the personalized and compassionate care that sets us apart. Experience a fresh approach to family dentistry in Grand Prairie, TX; Let us help you achieve a healthy, beautiful smile that lasts a lifetime. Look no further than My Fresh Family Dental for a dentist near you!