Cosmetic Dentistry

in Grand Prairie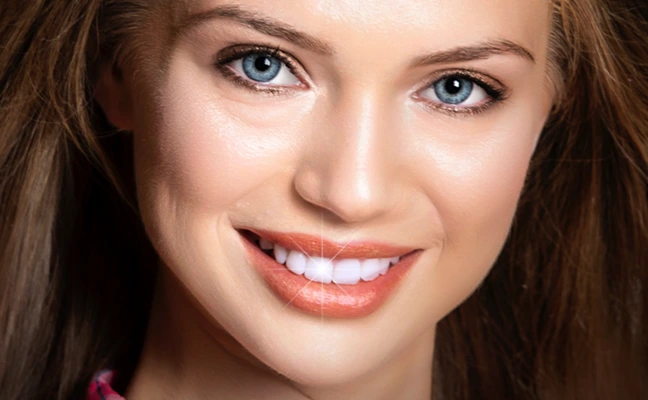 Cosmetic Dentistry in Grand Prairie
At My Fresh Family Dental in Grand Prairie, we believe that everyone deserves to feel confident about their smile. We understand that the appearance of your teeth can have a significant impact on your self-esteem and overall confidence. That's why we offer advanced cosmetic dentistry treatments to help you achieve both healthy teeth and a beautiful, radiant smile throughout your life.
With our expertise and cutting-edge procedures, improving your oral health, and enhancing your smile has never been easier. Our cosmetic dental treatments are designed to give you brilliantly white and well-aligned teeth, helping you achieve the smile you've always desired. You can trust us to provide the best care and guide you through the process of transforming your smile into one that you can be proud of.
What is Cosmetic Dentistry?
Cosmetic dentistry is a branch of dentistry, that focuses on improving the appearance of your smile. It involves a combination of dental treatments aimed at enhancing the overall beauty and health of your teeth and gums. The goal is to give you a brighter, more attractive smile that boosts your confidence.
There are several procedures involved in cosmetic dentistry, including teeth whitening, dental veneers, dental implants, and composite bonding. These treatments can address various concerns such as stained or discolored teeth, chipped or misshapen teeth, missing teeth, or gaps between teeth.
Cosmetic dentistry has gained popularity in recent years because it offers convenient and effective solutions to enhance your smile. With modern techniques and advancements in Grand Prairie, achieving healthier and more attractive teeth is now easier, painless, and more affordable than ever before. Whether you want to correct specific dental imperfections or simply want to achieve a radiant smile, cosmetic dentistry can help you achieve your goals.
6 Types of Cosmetic Dentistry in Grand Prairie:
When it comes to the importance of your smile, teeth, and dental health, choosing a cosmetic dental treatment from our trusted dentists is a wise decision. Our cosmetic dentistry services in Grand Prairie offer various procedures that not only enhance your appearance but also improve your ability to bite, chew, and speak confidently.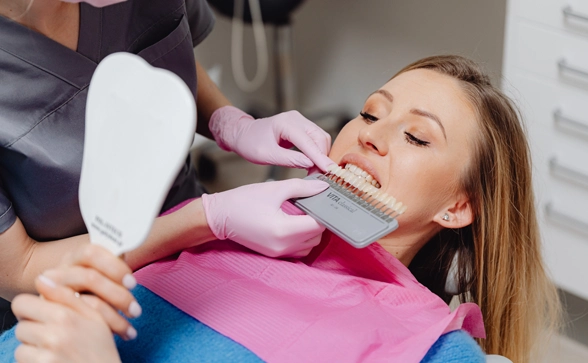 Benefits of Dental Implants Treatment in Grand Prairie
Teeth Whitening:
Achieving a bright smile is a top priority for many, and teeth whiteningis a popular treatment among our patients. We offer in-office whitening procedures that can dramatically reduce yellow stains caused by lifestyle habits. Additionally, we provide whitening agents, toothpaste, gels, strips, and trays that you can use at home for maintaining your bright smile.
Porcelain Veneers:
For those seeking a transformative solution, porcelain veneers are an excellent choice. These custom-made, wafer-thin caps are crafted from medical-grade porcelain and can address cosmetic concerns like crooked or misshapen teeth, cracked enamel, and gaps. Dental veneers offer a conservative approach, preserving most of your natural tooth structure while delivering realistic and long-lasting results.
Dental Implants:
Tooth loss can be a common issue, but dental implant provides a reliable solution. By using titanium tooth roots, dental implants create a strong foundation for attaching permanent or removable artificial teeth. They are virtually indistinguishable from natural teeth and can last for decades with proper care. Implants can support single dental crowns or even entire removable dentures with multi-unit abutments using the All-on-4 technique.
Emergency Dental Extraction:
In case of a dental emergency such as a lost or severely damaged tooth, immediate attention is crucial. Our emergency dentistry services ensure quick and painless solutions to preserve your overall oral health. If a tooth cannot be restored, extraction becomes necessary to prevent further complications.
Full Dentures:
Missing teeth can be replaced with custom-made dentures that restore both function and facial appearance. Complete dentures are used when all of your natural teeth are missing, while partial dentures are used when you still have some remaining natural teeth. Dentures also improve speech and prevent facial sagging. We offer both permanent and removable denture options to suit your needs.
Invisalign:
For those seeking orthodontic treatment, Invisalign offers a convenient and effective solution. Clear aligner trays made from 3D digital models of your teeth gradually straighten your smile. Unlike traditional braces, Invisalign aligners are comfortable, removable, and allow you to eat and clean your teeth with ease. They are suitable for adults and responsible teenagers seeking a discreet orthodontic option.
At My Fresh Family Dental, we strive to provide comprehensive cosmetic dentistry services that cater to your specific needs, ensuring a healthy, confident, and beautiful smile.
8 Benefits of Cosmetic Dentistry Services in Grand Prairie:
Cosmetic dentistry offers numerous advantages in improving the appearance of your teeth and smiles while addressing various dental imperfections. Here are the key benefits of choosing cosmetic dentistry in Grand Prairie:
Enhanced Appearance and Confidence:
Cosmetic dentistry uses advanced technology and techniques to achieve natural-looking results that brighten your smile. By correcting issues like chipped or misaligned teeth, you can regain confidence and eliminate insecurity about your smile.
Youthful and Vibrant Smile:
Cosmetic dentistry can effectively eliminate dark stains and discolorations, making you appear younger and more vibrant. By restoring the brightness of your smile, you can reverse the signs of aging and enhance your overall facial aesthetics.
Improved Oral Health:
Addressing periodontal issues through cosmetic dentistry can have a positive impact on your overall health. By detecting and treating conditions like gum disease, cosmetic dentists contribute to the prevention of systemic health issues such as heart disease and diabetes.
Enhanced Eating Experience:
Cosmetic dentistry can restore chipped or missing teeth, enabling you to enjoy a wider range of foods and maintain a nutritious diet. By resolving eating problems, you can experience the joy of eating without restrictions and improve your overall well-being.
Strengthened Teeth and Future Prevention:
Cosmetic dental procedures not only improve aesthetics but also strengthen your teeth. By addressing issues like enamel erosion or weak teeth, cosmetic dentistry can prevent further damage and reduce the likelihood of future treatments or interventions.
Shorter Recovery Period:
Compared to many other dental procedures, cosmetic dentistry typically involves a shorter recovery period. This means you can get back to your routine and enjoy the results of your treatment sooner.
Quick, Easy, and Long-Lasting Results:
Most cosmetic dental treatments are quick, easy, and comfortable, with minimal discomfort or side effects. Additionally, the results of cosmetic dentistry services are long-lasting, providing you with a beautiful smile for years to come.
Comprehensive Oral Care:
Cosmetic dentistry works hand in hand with other restorative procedures, allowing for comprehensive oral care. Whether you need deep cleaning, root canals, or other treatments, cosmetic dentistry can address various dental issues and provide lasting relief.
Get the Best Cosmetic Dentistry Services in Grand Prairie:
Discover the beauty of your smile with cosmetic dentistry in Grand Prairie. Our personalized treatments, including teeth whitening, dental veneers, and more, enhance your smile's aesthetics. Achieve a confident and stunning smile with our professional cosmetic dental services.
At Fresh Family Dental, we offer a comprehensive range of dental treatments, including anxiety management, dental bridges, dental crowns, deep cleaning, implant dentures, emergency dentistry, examination and deep cleaning, tooth extraction, dental implants, Invisalign aligners, preventive treatment, root canals, teeth whitening, tooth-colored filling, and dental veneers.
To schedule an appointment or learn more about cosmetic dentistry in Grand Prairie, you can call us at (972) 546-3888. Experience reliable and personalized cosmetic dental treatments at Fresh Family Dental today.
FAQs About Cosmetic Dentistry in Grand Prairie, TX:
Teeth whitening results can vary, lasting from six months to two years, depending on lifestyle habits and oral hygiene. Occasional touch-ups may be needed to maintain brightness.
Absolutely! Cosmetic dentistry offers various solutions for straightening crooked teeth, including traditional braces, clear aligners, and lingual braces. A consultation with our cosmetic dentist will determine the best option for you.
Typically, dental insurance doesn't cover purely cosmetic procedures. However, some treatments with functional benefits, like dental implants for missing teeth, might have partial coverage. It is recommended to contact your insurance provider for further information.